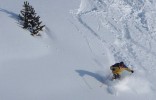 Ski tours within the dolomites
For those who enjoy the high alpine, winter altitudes in the Dolomites, Val Gardena offers more tours.
Most of the really high alpine stretches are not equipped with ski slopes which are maintained so there is considerable risk or danger involved when skiing.
Therefore, it is suggested that one goes with a ski guide who knows the mountain and the present conditions on the stretches concerning snow and avalanches etc.
Pordoischarte – Val Mezdì – Val Lasties
From the Pordoijoch: at the end of the Pordoiseilbahn ski-lift, the steep incline back to the pass or through the romantic, winding valleys of the Sella mountain range: the Val Lasties (with its final destination at the Monti-Pallidi-Hütte on the mountain street between Sella and Pordoijoch) or the Val Mezdì, which merges into the ski slopes near Kolfuschg (in the area of Corvara).
Lagazuoi
Lagazuoi by cable-car from Falzaregopass: either back to the Pass or through the stretched-out high mountain valley all the way to Armentarola/St. Kassian; from this point the lift connections via Corvara and Val Gardena Joch into Val Gardena Valley.
Marmolada
Via Canazei und Fedaia Lake from the North or over Malga Ciapela on the easternflank of the Marmolada mountain-range (the latter available only from mid-February).
The area ski-pass "Superski Dolomiti" is not valid for the installations accessing the Marmolada.