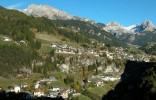 Santa Cristina:
coordinates:
46°34' N, 11°43' E
elevation:
1.428m (center)
population:
approx. 1.800
Santa Cristina Valgardena
The Ladinian Santa Cristina (ladin: Santa Crestina, german: Sankt Christina) is located midway between the main towns of the Val Gardena Valley, Ortisei and Selva Gardena.
South of the town, which is well known as a resort, tourist center and winter sport hot spot, towers the dominant steep and jagged Langkofel range.