Val Gardena / Gröden / Gherdëina
Val Gardena
When talking about Val Gardena one usually refers to the Val Gardena Valley (German: Grödnertal, Italian: Val Gardena, Ladinian: Gherdëina). This valley is nearly 30 km long and forks off close to the south of chiusa (near bridge Gardena / Waidbruck) east of the Eisack / valle Isarco Valley. The most significant towns of the valley are Ortisei, Santa Cristina and Selva Gardena.
Val Gardena and the dolomites
Val Gardena is the quintessence of the scenic beauty of the Dolomites defined by the mighty Langkofel (3,181 m) and the monumental Sella mountain range; hence it is a destination for hiking and mountaineering.
The valley continues at its end as roads lead over the Val Gardena Joch and also past the Sellajoch and take you further into the fascinating center of the Dolomites where one finds oneself among most unusual and intriguing rock formations, walls, niches, and towers.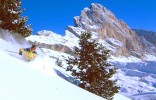 Wintersports in Val Gardena
Today the Val Gardena Valley is a world-renowned winter sports center, appreciated and frequented by, but not only, the most demanding skiers.