Location of the Val Gardena valley
Val Gardena in the heart of the Dolomites is located in South Tyrol in Italy. Despite the calm, remote, and wonderful location in the Dolomites, it is still very easy to access.
This valley is nearly 30 km long and forks off close to the south of Klausen (near bridge Gardena / Waidbruck) east of the Eisack Valley (valle Isarco). The most significant towns of the valley are Ortisei, Santa Cristina and Selva Gardena.
The nearest larger city Bozen (Bolzano) is just 40 km away. Bozen is the regional capital of Sout Tyrol and an important travel landmark.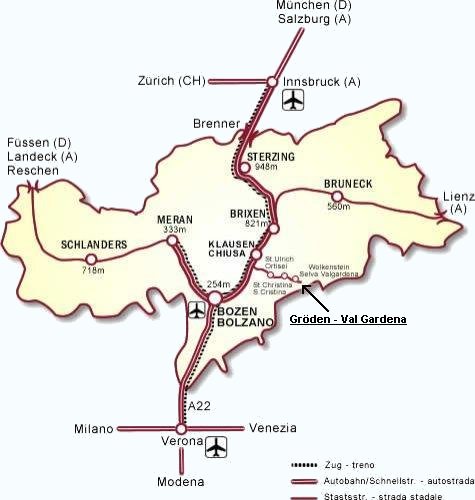 Distances to Val Gardena
Bozen (Bolzano) 40 km
Innsbruck 120 km
Munich 300 km
Salzburg 320 km
Zurich 420 km
Verona 190 km
Venice 250 km
Milano 300 km
Rome 700 km